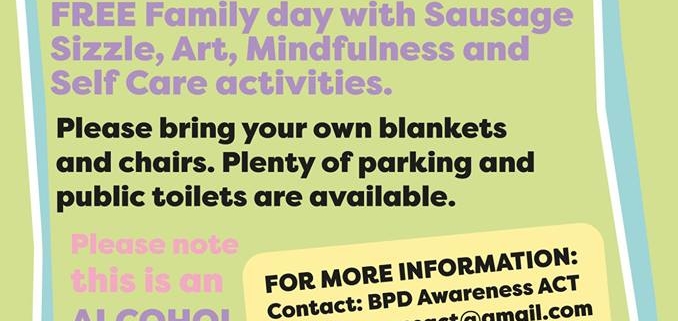 Supports and other resources for friends and family
#1:
Supporting someone with BPD can sometimes be distressing and difficult. It can seem like nothing is changing. If you are a loved one of someone with BPD, check out borderineintheACT.org.au 'Family, friends and carers' for information about helping someone with BPD and looking after yourself. Look out for more posts today focused on ACT local programs for supporters of those living with BPD.
#2
If you love and/or care for someone with BPD, you are welcome to the free ACT BPD Carer Support Group to meet others who share a similar journey. It is a safe place for support and to learn coping strategies from others and professionals. Meetings are held on the first Monday of each month in Holt, Canberra at 5.30-7.30pm. Contact Natalie by email or 0415 111 894 or Fi by email or 0448 556 698. Details
#3
Family Connections is a free 12-week program providing education, skills training and support for people supporting a person who experiences BPD symptoms. Meetings are held on Wednesdays at 3.00-5.00pm. For more information about the program click here, and to register click here.
#4
Mental Health First Aid Courses are held in Canberra throughout the year. Although not BPD specific, completing this 4-hour course can assist loved ones and carers of people with BPD in responding to self-harm, psychosis and suicidal ideation. Details
https://www.borderlineintheact.org.au/wp-content/uploads/2018/09/canberra-BPD-event.jpg
960
678
Admin WHM
https://www.borderlineintheact.org.au/wp-content/uploads/2017/08/logo-transparent.png
Admin WHM
2018-10-02 12:42:35
2018-10-04 10:50:19
Supports and other resources for friends and family