Communication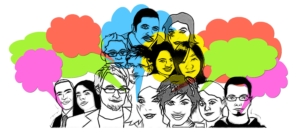 Relationship problems usually arise from issues with communication. This is in particular more difficult for people with BPD who find expressing their emotions impossible.
You may find frustrating no matter how hard you try to communicate to the people around you – family, partners, friends, carers and colleagues, no one seems to understand you. Similarly, you may also misunderstand others' responses and actions. Therefore, some may think you have distorted what they have said and this can lead to interpersonal conflicts.
This can be extremely frustrating for all involved, you may become defensive and arguing over something that is misunderstood.

VALERIE PORR – Heightened sensitivity in social interactions
To communicate more effectively, it is important that you and those around you have:
Insight into your feelings and experiences
A general stated understanding of trust
A common vocabularly
Although miscommunication can harm relationships, through patience, learning and support, you can improve your communication skills and relationships through professional intervention and treatment. In addition, it may be useful for both you and loved ones to attend therapy to work on regular issues  so that you all have a common vocabulary.

ZANARINI – Ineffective use of language
Click through to the following page to improving relationships:
For more information
Very Well – How BPD affects communication
DBT Self Help – Interpersonal effectiveness
Healthy Place – Three ways to have a healthy communication
ReachOut – Communication skills
Sunrise – Interpersonal effectiveness: The roots of a healthy relationship
Source