About us

The Women's Centre for Health Matters (WCHM) is a non-government organisation, funded by ACT Health, that aims to improve the health and wellbeing of women in the ACT. WCHM is dedicated to providing information for all concerned members of the borderline personality disorder (BPD) community in the ACT and surrounding regions. BPD is a gendered disorder because of the difference in biology, psychology and social factors. Improving women's mental health is intimately tied to improving her wellbeing and productivity as well as the mental health and wellbeing of her family and general community. This website was developed to ease the information-seeking and raise awareness of BPD.
Our Story
This website was developed in response to the findings of the WCHM's 2016 research on BPD: Exploring the Lived Experiences ACT Women and Service Providers "Not a Label. More than a Diagnosis."
Our Mission:
To assist all those affected by BPD: people with lived experience, family, friends, carers of people with BPD and those working with BPD.
Our Goal:
Know BPD. No Stigma.
Often the first place we seek information is the web and there is a lot of misinformation out there, especially for BPD. This web page has two purposes: to provide up to date evidence-based information on BPD relevant to ACT, and to reduce stigma.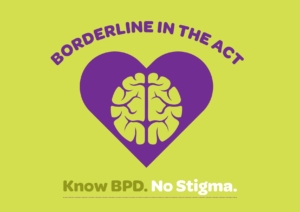 Click here to see upcoming and past events about BPD in the ACT.
Privacy Policy
WCHM is committed to protecting the privacy of its members and any other individuals who have dealings with us. This policy explains how we handle your personal information including the use and any disclosure of your personal information, as well as your right to access the personal information we hold on you. The purpose of this Privacy Policy is to outline how the Women's Centre for Health Matters (WCHM) handles, uses and manages personal information consistent with the Australian Privacy Principles set out in the Privacy Act 1988 (Commonwealth). It describes how WCHM manages any personal information that it collects; the types of personal information held, and for what purposes; and how that information is collected, held, used and disclosed.
If you have any questions about our Privacy Policy, or about the way we manage your personal information, please contact us.