Fact sheets & Templates 

Fact sheets
Health Translations – culturally and linguistically diverse personality disorder fact sheets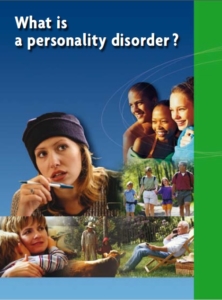 What is a personality disorder?
This brochure has been translated into 21 languages.
English version here.
Translated versions from Health Translations.
Orygen Youth Health BPD + Young People
Worksheets
This site has a galore of DBT handouts and worksheets focusing on DBT's 4 core skills: core mindfulness, interpersonal effectiveness, emotion regulation and distress tolerance. It includes manuals and diary templates as well as handouts for those with substance use disorders.
Find DBT reference sheets, worksheets, diary cards and learning activities on this site.
Websites
Find DBT lessons, flash cards, diary cards, reference sheet and many more exercises to help practice DBT in daily life.
Crisis Planning Templates
The following crisis plan templates are to help you plan what to do should a crisis occur. Putting it in writing as a care plan and sharing it with everyone involved means each person knows who is responsible for what and when if a crisis occurs.
ACT crisis action plan template This template has been created to be customisable on your device.
Lifeline coping kit includes templates you can download to complete with someone you trust.
Wellness Recovery Action Plan (WRAP) – Crisis plan access tools, forms and advice for crisis and recovery plans.
Children of Parents with a Mental Illness (COPMI) provides crisis plan templates you can print and complete for the family: