How to help a loved one in an emotional crisis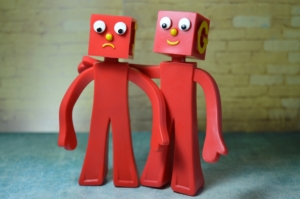 Recognising an emotional crisis
One of the most common signs of emotional crisis is a clear and sudden change in behaviour. Here are some signs:
Poor personal hygiene
Dramatic change in sleep habits – oversleeping or irregular sleep
Weight gain or loss
Performance drop at work or school
Marked mood changes, e.g. agitated, anxious or sad
Withdrawal and isolation from relationships and routine activities
Talking about death or suicide
Self-destructive behaviour
Alcohol and drug misuse.
Change in behaviour can also come about gradually. If something doesn't seem right about your loved one, compare present behaviours with those from the past few weeks or months.
If you suspect that something is wrong, it's best to intervene early to prevent your loved one's emotional distress from becoming an emergency crisis.
Read more about recognising emotional crisis at www.changedirection.org.
What to do when you see signs of an emerging emotional crisis
If you are worried about a family member, friend or colleague:
reach out, sit down and talk (preferably in a stress-free setting)
offer reassurance that you care and support them
treat them with respect and dignity
suggest speaking to someone they feel comfortable with, e.g. trusted friend/relative, GP, case manager, counsellor or mental health professional
offer assistance, e.g. help arrange an appointment with a doctor and if they wish, accompany them to the meeting.
Sometimes, it can be hard to acknowledge experiencing emotional distress.
If the individual remains uncomfortable with telling you how they are feeling or is not open to seeking help perhaps:
share information sourced from a health professional or a self-help guide with relevant strategies
provide information to access e-mental health resources
seek guidance from a mental health professional if you believe their mental health is deteriorating or they are at risk of harming themselves or others.
help call the Mental Health ACT Triage 1800 629 354 if you feel unsure about the appropriate service to contact.
Download the free US-based A Friend Asks app on iPhone or Android for information on: warning signs of suicidal ideation, how to help a friend, how to get help now, what to do and what not to do.

THE MIGHTY – Things people with mental illness want their significant others to know
How to talk to a person in crisis
Stay calm. Talk slowly and use reassuring tones.
Realise you may have trouble communicating with your loved one. Ask simple questions. Repeat them if necessary, using the same words each time.
Don't take your loved one's actions or hurtful words personally.
Show you care by saying something like: "I'm here. I care and I'm worried about you. I want to help. How can I help you?"
Don't say, "Snap out of it," "Get over it," or "Stop acting crazy."
Discuss suicide – asking about it won't put the idea in the person's mind, "Do you feel like harming yourself?"or "Do you feel like ending your life?"
Don't handle the crisis alone. Call for help and encourage the person to look for help from resources, family, friends, people from your community or a local support group. You could say: "You are not alone and there are people who can help you out of this situation" or "I will stay with you until you get help".
Don't threaten to call 000 unless you intend to go through with it. When you call 000, police and/or an ambulance are likely to come to your house. This may make your loved one more upset, so use 000 only when the person, you or someone else is in immediate danger.
Conversations matter
It is hard to know what to do when you're worried someone you know may be showing signs of a crisis.
Read Beyondblue – Help someone you know on how to start a conversation.
If you are worried that a person is thinking of suicide. Visit Conversations Matter for practical online resource to support safe and effective communication about suicide.
Emergency crisis
If the early signs of a crisis are not recognised in a timely manner, the crisis may escalate into getting in trouble with law, harming others, injuring the self accidentally or on purpose and plans of suicide. Signs of self-harm:
Frequent bruises or bandages
Wearing long sleeves and pants even in warmer weather
Read more on self-harm.
No emotional crisis is more urgent than self-harm and suicidal thoughts and behaviours. If you think a loved one has thoughts of self-harm or suicide, do not leave him or her alone – it's an emergency.
What to do in emergency crisis
All comments about suicide or wishing to die should be taken seriously. Even if you do not believe your family member or friend will actually attempt suicide, the person is clearly in distress and can benefit your help in receiving mental health treatment. Do not leave the person alone. Try to tell the person to seek help immediately.
If you think someone is thinking about self-harm, attempting suicide or is in immediate danger to others, contact someone who can help right away.
Call the doctor
Call 000 for police or medical emergency
Go to the nearest hospital emergency room
Call Suicide Call Back Service 1300 659 467
Call Lifeline 13 11 14
Call the ACT Crisis Assessment and Treatment Team (CATT) 1800 629 354
It is important to notify the operator that it is a mental health crisis and ask for an officer trained in crisis intervention or trained to assist people experiencing a psychiatric emergency. Try not to let emotions take over and keep descriptions accurate.
Click to read a full article about CATT.
Download ACT Health – Mental health, justice health and alcohol & drug services information for family, friends and carers.
Download Queensland Mind Essentials – Caring for a person who is suicidal.
Click to read Carer Gateway – How to plan for an emergency crisis.
Useful links
Very Well – How to be a good friend to someone with BPD
ACT Health – Let's Talk: Suicide prevention
Information sheets to download
ACT crisis action plan template
Project Air Strategy – For families, partners & carers: Understanding self-harm and suicidal thinking
Project Air Strategy – Effective communication: for families, partners & carers
Queensland Mind Essentials – Caring for a person with a personality disorder
Useful apps
Suicide Prevention App (SPA) is the world's first publicly distributed standardised screening and response planning tool that empowers you with the professional skills needed to help someone in time of need from anywhere in the world. With an easy-to-follow step-by-step process, SPA walks you through a best-practice standard way to ask the right questions about self-harm and suicide. Read more here. Available on Desktop & Android.
Want to learn more?
See Generation Next video on Helping young people in a mental health crisis.
Information booklet for families and other carers developed by the Private Mental Health Consumer Carer Network (Australia).
Read Mental Health First Aid Australia – How to Help a friend, family member or co-worker with a mental illness or crisis.
Access fact sheets, stories and music about helping a friend sourced from various Australian youth mental health sites at Tune in Not Out.
Complete the Question, Persuade, and Refer online training to help save a life from suicide.
Read the National Alliance on Mental Illness (US-based) Crisis Checklist.